Welcome to our Knowledge Base
Enter your search terms below.
Stapling as a print option is not performed
Description of the problem
I would like to print a multi-page Microsoft Word document with the print option "stapling". My printer is equipped with a stapling unit. If this option is specified in Word, the paper leaves the printer without being stapled.
What am I doing wrong?
Solution
In Microsoft Word and also in other programs there are several options to staple documents. steadyPRINT supports the default developed by Microsoft. The user can use the stapling options
top left
two staples left
in Microsoft Word: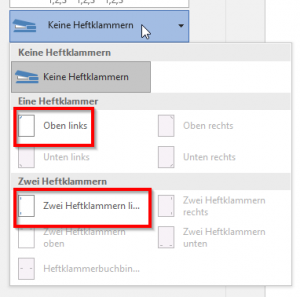 steadyPRINT does not check whether the printer also supports this way of stapling for the printout. If the printout is not stapled, there might be two possible reasons for this:
The manufacturer's printer driver for this printer does not support the stapling function according to the Microsoft standard but uses its own technology.
The printer has no hardware for stapling.
If the first reason applies, stapling via steadyPRINT can still be realized. Individual stapling options can be stored in the printer settings of the the steadyPRINT printer:

Such manufacturer-specific stapling options are stored for each individual printer in the steadyPRINT Center and are made available to the users.
As an alternative, print templates can be created in the Center and assigned to the printers.

Dependencies
The printer was assigned to and set up for the user via the steadyPRINT VPD driver. This means that the printer is a vName, vDirect or vPrinter printer.
Related article
VPD: Document is printed in color instead of monochrome in the public template
Related link
Microsoft Print Scheme Specification

ID: 21650 | Zur deutschen Version