Welcome to our Knowledge Base
Enter your search terms below.
Recommendation for action: Workflow printing actions
Description of the problem
With version steadyPRINT 9.0, the printing process via workflow has been revised. So far, the output action "printing" has represented all printing functions in one workflow action. This action will not be developed and supported any further.


Solution
Instead, the workflow action "Printing" has been divided into new printing actions (vPrinter, vName, virtal printing, default printer, user-defined printer).
These actions can be individually selected and integrated into the workflow.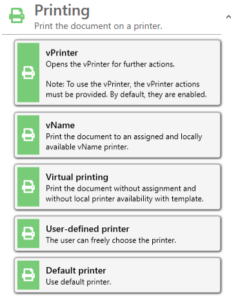 All users of the workflow functions are urgently recommended to manually replace the old printing action "printing" with the appropriate new printin action.
ID: 28141 | Zur deutschen Version