Welcome to our Knowledge Base
Enter your search terms below.
vFlow – Installation of Cloud Service Provider Microsoft OneDrive
Description of the article
steadyPRINT vFlow is able to store documents to the Cloud. For this purpose the configuration of a Cloud service provider via the steadyPRINT Center is necessary. This article describes the installation for Microsoft OneDrive.
Solution
Registration Microsoft Azure App
For the registration of the application under https://aka.ms/AppRegistrations/ a Microsoft account is required. After the login, a new application can directly be created via "New registration".


Figure 1: Registration of a new application
Now enter the name of the application and select the supported account type. Then click "Register".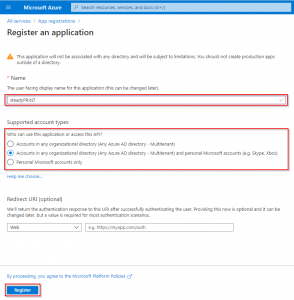 Figure 2: Entry of application name and account type
Now create the required Redirect URI by clicking "Add a Redirect URI".
Go to the menu and click "Add a platform" under "Platform configurations" and select "Mobile and desktop applications".
Go to the menu "Mobile and desktop application" and select https://login.microsoftonline.com/common/oauth2/nativeclient as Redirect URI.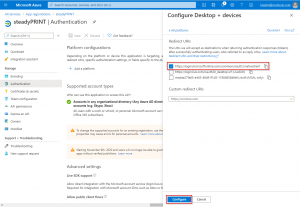 Figure 5: Selection of Redirect URI
The registration for a standard application is now complete. Depending on your organization, individual configuration steps might deviate and/or further settings might be necessary.
Configuration Microsoft Cloud Provider in steadyPRINT
In order to integrate Microsoft OneDrive change to the steadyPRINT Center under File > Settings > vFlow Cloud Provider and click "Add". Now select "Microsoft OneDrive" in the window for the configuration of the cloud provider and enter a name first.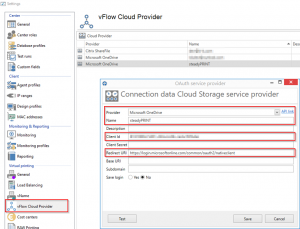 Figure 6: Configuration Cloud Provider
Copy the "Application (client) id" from Microsoft Azure (see figure 3: Add Redirect URI) and enter it to the field "Client id". Similarly, enter the stored Redirect URI (see figure 5: Selection of Redirect URI).
Via the button "Check" you can check whether the settings are correct. For the login, a Microsoft account for authentication purposes is required. As soon as this process is complete, a corresponding message is displayed. In case of an error, please check the error message as well as the stored settings.
Note: For the access to the Cloud Drive (https://onedrive.live.com/) functioning correctly, it has to be accessed once beforehand as only at this point the initial setup is carried out.
Use of Microsoft OneDrive in vFlow
Create a new workflow and drag the action "Store to cloud" which is followed by the selection of the Cloud Provider mentioned above.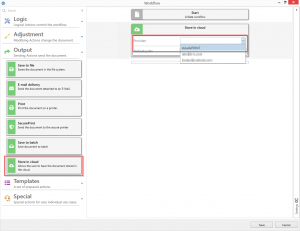 Figure 7: Selection of Cloud Provider
You can then provide and execute the workflow as usual. During the execution, the end user has to specify his/her account and password in order to store the document to the desired location in the cloud.
Note: If you want to prevent the user from having to enter the password each time the workflow is started, select "Save Login" in the settings for the Cloud Provider.
Dependencies
Setup Microsoft Azure App
steadyPRINT CAL for vFlow
Related Articles
https://docs.microsoft.com/en-us/onedrive/developer/rest-api/getting-started/app-registration?view=odsp-graph-online
ID: 23087 | Zur deutschen Version