Welcome to our Knowledge Base
Enter your search terms below.
SNMP Example 1.1 – Automatic sending of an e-mail in case of low toner level
Article description
1. E-mail- and action profile. Link to SNMP, storage to database
Example 1.1:
Automatically send an e-mail to Purchasing if the yellow cartridge of a printer shows low content.
To forward errors in the printing environment to the correct department, some settings have to be performed in advance. In this environment steadyPRINT offers very individual configuration options. Once the configuration has been performed, most processes can be completed automatically.
First, an e-mail profile has to be created. If a toner cartridge shows a low content, the purchasing department shall be notified by e-mail in order to order new cartridges.
Creating the e-mail profile:
After the start of steadyPRINT, click File –> Settings and open the e-mail profiles.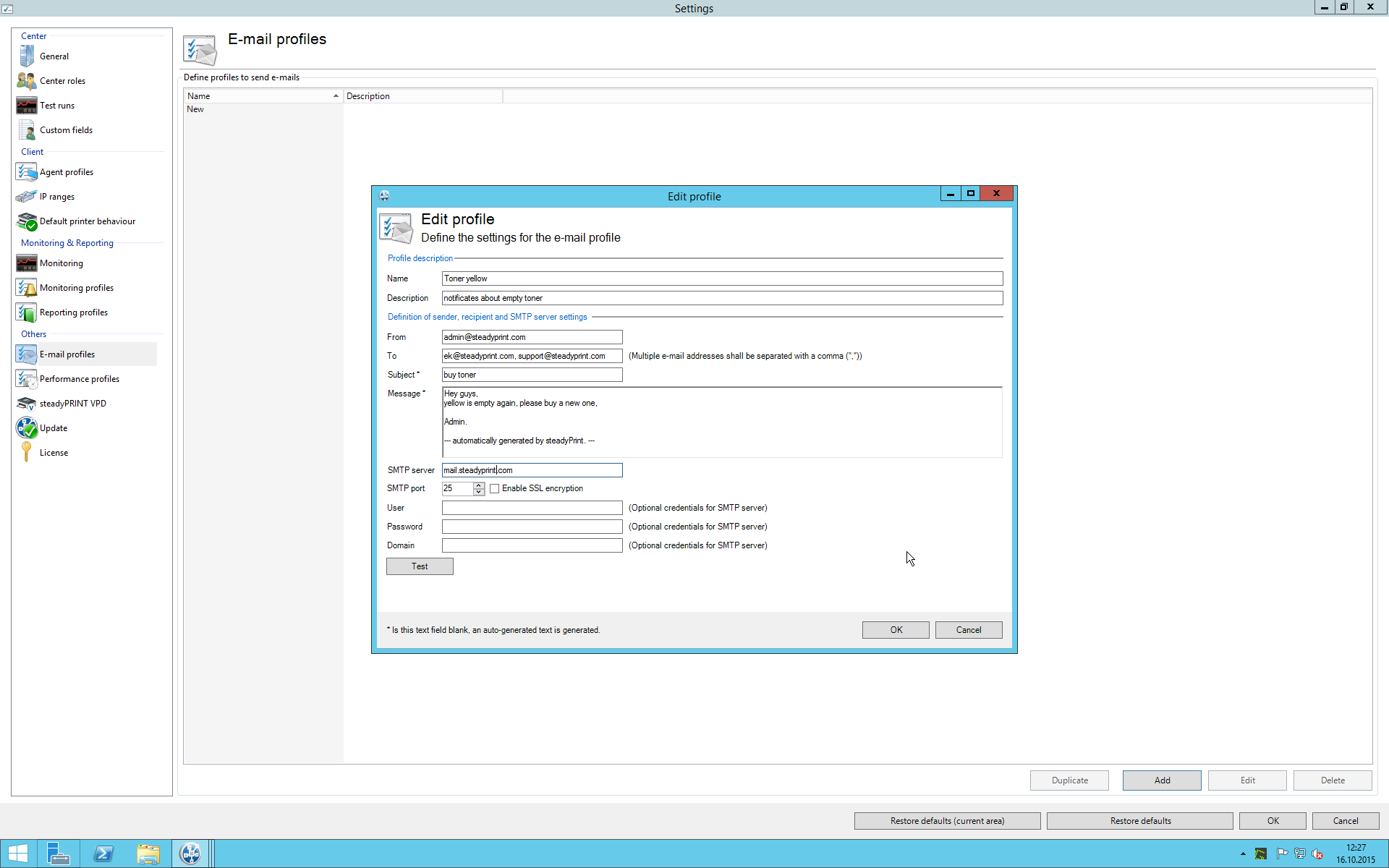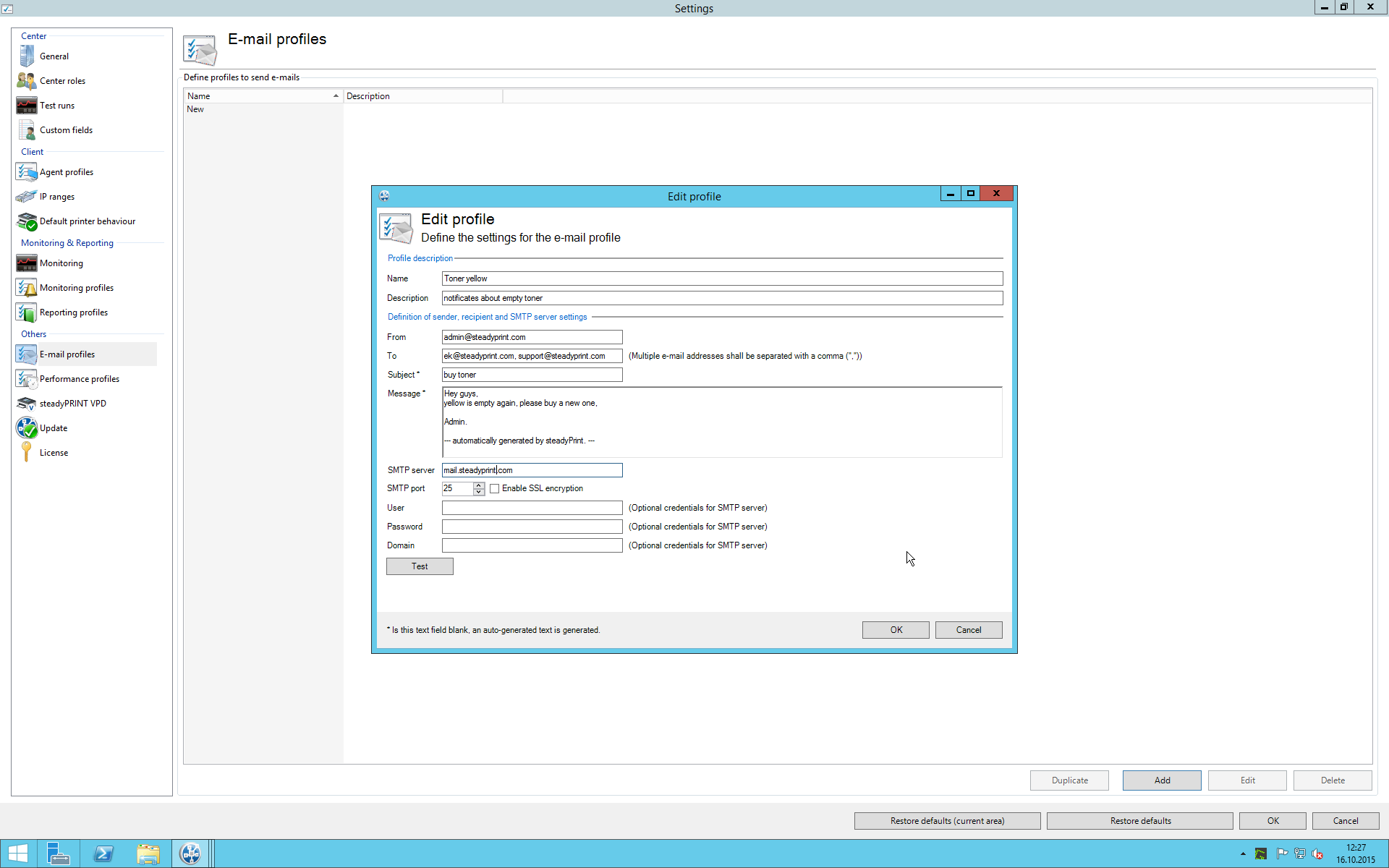 We now want to define in the action profile when an e-mail is to be sent to Purchasing.
Creating the action profile: Click File –> Settings and open the action profiles.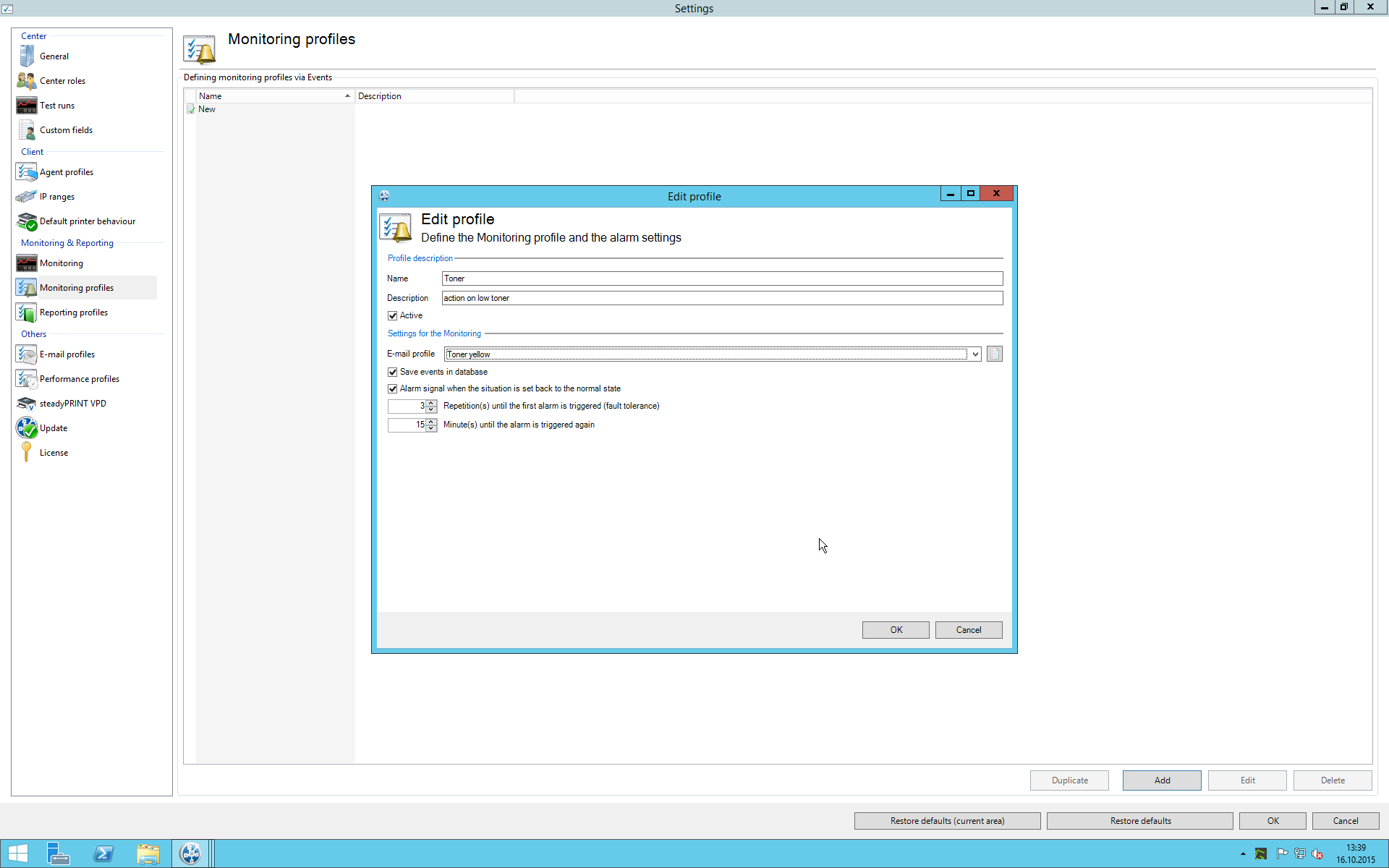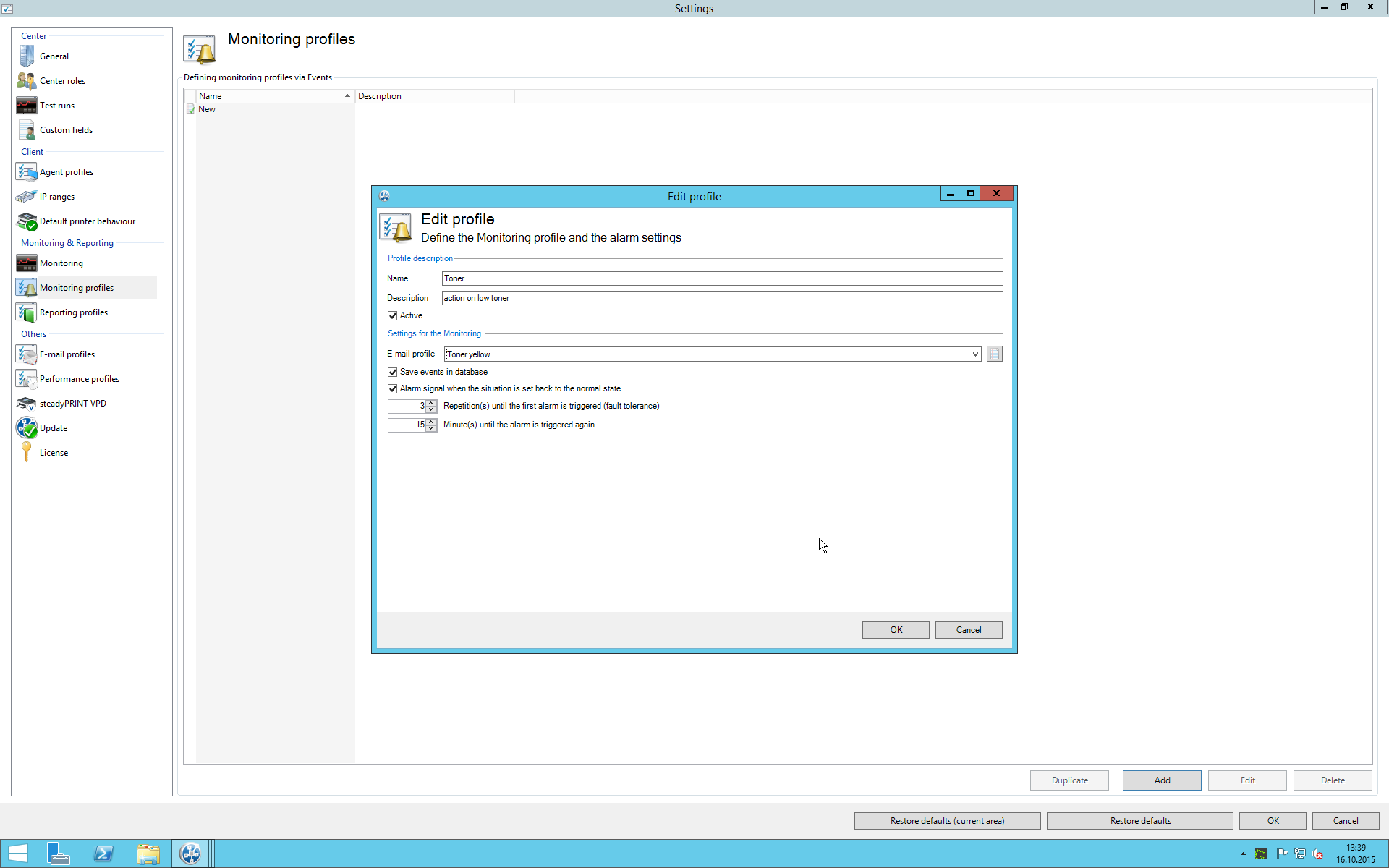 We link the action profile to the e-mail profile just created. The results shall nevertheless be stored to the database so that we can understand in the subsequent course what has happened on our system.
The action profile initiates steadyPRINT to send an e-mail via the linked e-mail profile to the purchasing department and to store something to the database.
Linking the action profile to the SNMP query: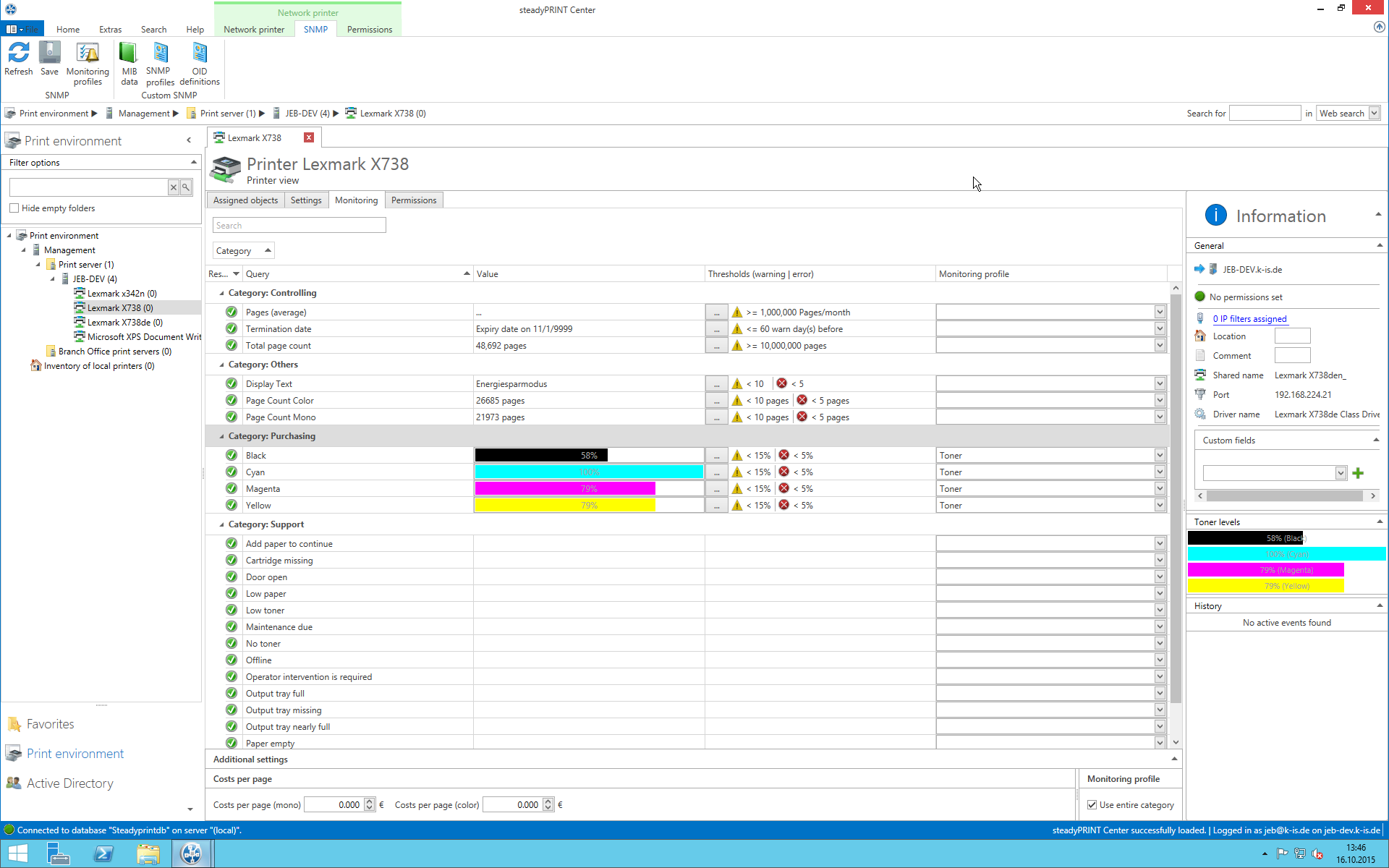 Now, it has to be determined when an e-mail is to be sent and what should be stored to the database.
This is quite simple: Once the values for error or warnings of the SNMP query have been linked to an action profile and the check box has been selected in the action profile under "entered to database", the data is automatically transferred to the database and – if the e-mail profile is linked – sent to the corresponding body.
In order to assign the action profile to the SNMP query, click the column action profile next to the SNMP query and select the created action profile. By default, the entire category is assigned to the action profile.
As we expressly do not want to have this bahavior, the checkmark in the checkbos "Use entire category" has to be removed
We now assign the profile and are asked to store.
Congratulations, you have successfully created an e-mail and action profile and linked both to a SNMP query. Warnings and errors regarding your SNMP query are now automatically sent to Purchasing and stored to the database.

ID: 21581 | Zur deutschen Version