Description of the problem
When opening the properties of a user, computer or a group, an error message appears: "No such object is present on the server.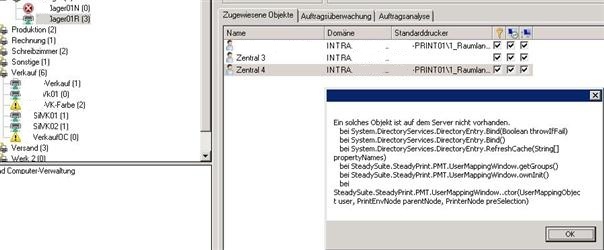 Solution
Please verify that this object is actually available in Active Directory and – if there are several – that these are correctly synchronized. Should you have moved a user/computer/group to another OU, correct the affected OU in the steadyPRINT database with steadyPRINT Center under Settings > Account Functions > Active Directory Account Validation. Afterwards, restart the steadyPRINT Center and steadyPRINT agent. Opening the properties of the object should now function without an error message.
ID: sP00000 | Created on: 2012/12/03
https://www.steadyprint.com/wp-content/uploads/steadyPRINT_Logo_250x78.png
0
0
Karin Vitt
https://www.steadyprint.com/wp-content/uploads/steadyPRINT_Logo_250x78.png
Karin Vitt
2012-12-03 13:05:58
2019-03-15 10:40:12
An Active Directory object cannot be found