Reliability & Print Server Migration
The steadyPRINT reliability enables all users to continue printing without any problem even in the event of a print server loss and thus to work effectively and efficiently. And: Print server migration made easy with steadyPRINT.

This is what happens during a print server loss
Before: A service which is running on the backup print server monitors the print queue of the master print server and is responsible for the replication of printer shares and drivers.
After: As soon as the master print server fails, this service notifies all user sessions and the printer connections are switched over to the backup server in real-time. This process takes place without any need for the user to re-login. The administrator can centrally determine if an information window will be shown to the user informing him about the re-mapping process.
Switching back printer connections to the master print server is done by the administrator by simply clicking one button in the steadyPRINT Center.
The use of a backup print server is not required if you just want to have a centralized management of your printer environment.
Backup print server & settings
With steadyPRINT's reliability, all users are able to keep on printing even during a print server loss and thus to work effectively and efficiently. Use a redundant print server to provide a reliable printing environment.
Replicate all printers, ports, drivers, shares and settings to a backup print server and get a 1:1 copy of your print server. In case of a failure, steadyPRINT switches all printer connections directly and completely without any delay from the master print server to the backup print server.
Use the maintenance mode to make changes on the print server without interrupting the workflow.
In case of a print server loss, steadyPRINT is also able to automatically run a script, so that even applications that are not based on Windows printer standards are supported.
Generate automatic e-mail notifications to inform all responsible persons in case of a print server failure.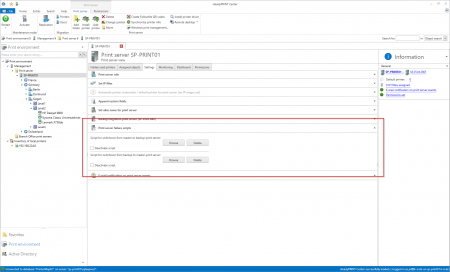 Reliable printing for special systems (e.g. KIS systems like ORBIS)
Thanks to the virtual printer driver steadyPRINT VPD, even special systems can benefit from the print server reliability. Only when a printing process is started, steadyPRINT checks whether the master- or backup print server is enabled and creates the respective connection. This way, a print server failure can be easily intercepted as the printer name remains the same.
Find out more about driverless printing with steadyPRINT here.
Challenges of a print server migration
A print server migration is associated with specific challenges. With steadyPRINT Migrator it will be just a piece of cake. Following tasks are done for you by steadyPRINT:
Create printers
Printer name
Driver*
Port
Share
Settings**
Advanced Settings**
Take over users to the new server
*During the migration from a 32-bit to a 64-bit platform it is eventually necessary to choose an alternative driver.
** While migrating from a 32-bit platform to a 64-bit platform it is possible that, in certain circumstances it will come to incompatibility between drivers and thus with the settings.
Supported print server platforms
The steadyPRINT Migrator supports different platforms.
You are able to migrate from any of these operating systems in any direction.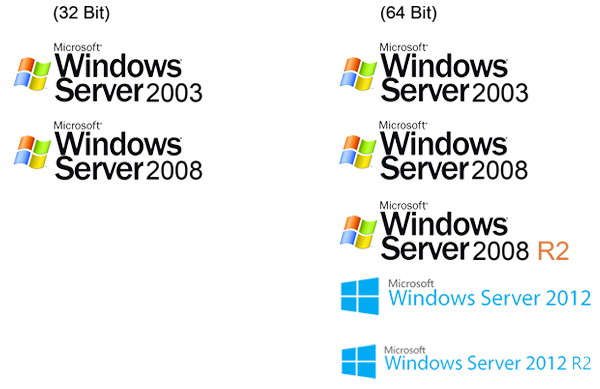 Preparing & processing of a migration
You can get to the Migration window via the print server view in the steadyPRINT Center.
Analyze both print servers for a migration. In case of possible driver conflicts, the analyzed printers are marked with different colours.
Red: No compatible printer driver was found on the target system. You can install the necessary drivers directly via the steadyPRINT Center.
Orange: Different driver versions on source and target system. You decide whether or not to overwrite these drivers.
Decide which x86- and x64-driver from which system will be used for migration.
Establish a remote desktop connection to the source or target system, when required.
Print server migration: Driver administration
During a migration from a 32-bit to a 64-bit System, driver conflicts may occur.
Should there be no compatible driver on the target system, you will be asked to choose an alternative driver in order to successfully complete the process. All drivers that are available on the target system will be displayed.
Should there be different printers with the same driver, steadyPRINT automatically detects this and the selection can be taken over for all relevant cases.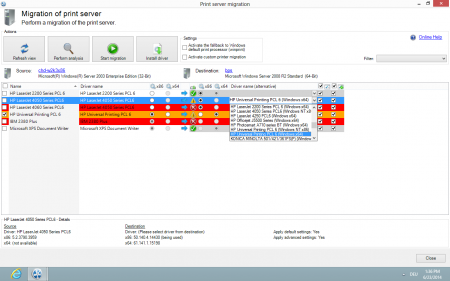 Print server migration: User migration
Migrate all users to the new print server. Through the user migration, any of the users' printer connections will be switched to the new system. During this, all old connections are being deleted and newly created on the target system. For this, all connections have to be inventoried by steadyPRINT at first.