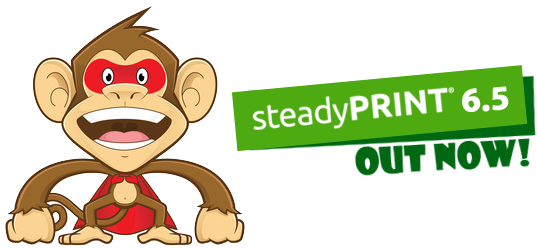 Finally – the new version 6.5 is now available and offers interesting new features.
In the following you will find an overview of the most important innovations.
Secure and flexible printing with the new steadyPRINT APP: Just choose the new FollowMe Printer and select the printer of your choice. Use the app on your smartphone to enter the printer ID or scan the QR code displayed on the printer. The print job will immediately be started. You don't have worry about confidential documents being read by others.

New assignment type for small branch offices: Branch Office Printer

Local IP printers for branch offices without print server: You have a small branch office and don't want to set up an additional print server? No problem! The new assignment type "BranchOffice Printer" makes this possible.The printers are assigned on IP basis. This way they can be centrally administered in the management console without an additional print server being required. Moreover, WAN connections are considerably relieved as the print jobs are directly sent to the printer instead of being redirected via the print server.

New assignment type for special systems (e.g. KIS, DATEV & ERP): vName Printer

The new vName Printer particularly offers advantages for special systems such as KIS, DATEV and ERP systems. The administrator assigns any name of his choice (e.g. ERP Printer) and stores this printer in the special systems. The users will now always use the ERP printer. In the background however, different physical printers can be assigned on this printer type for groups or users. This way, each user uses the ERP printer, the printout, however, appears where the user wants it to. In addition, several assignments can be created in the background for one user – e.g. for different IP areas.

More status information of your print environment in the steadyPRINT Center: The new dashboard offers all important information at a glance and has directly been integrated into the steadyPRINT Center.

Simply merging your PDF documents: No more additional tools – as of now steadyPRINT enables you to simply merge PDF documents.

Store important information on objects within your print environment: Create individual fields in order to provide an ideal overview. Store for example contact details or other important information for printers, print servers etc. You can individually name custom fields and adjust them to your environment.

Considerable performance improvements: We are constantly working on the performance of our solution. With the new release we have improved in all areas.

Detailed list of all new features

Please refer to our release notes to get a detailed overview of all new features, modifications, additions and bug fixes.
You would like to see the new version in action? No Problem – just visit one of our free webinars and you will get to know all new features without any obligation.
Dates and Registration.

As an alternative, you can also arrange an individual appointment with us.
Just contact us.