Print Server Migration
Print server migration made easy with steadyPRINT.

Challenges of a migration
A print server migration is associated with specific challenges. With steadyPRINT Migrator it will be just a piece of cake. Following tasks are done for you by steadyPRINT:
Create printers
Printer name
Driver*
Port
Share
Settings**
Advanced Settings**
Take over users to the new server
*During the migration from a 32-bit to a 64-bit platform it is eventually necessary to choose an alternative driver.
** While migrating from a 32-bit platform to a 64-bit platform it is possible that, in certain circumstances it will come to incompatibility between drivers and thus with the settings.
Supported print server platforms
The steadyPRINT Migrator supports different platforms.
You are able to migrate from any of these operating systems in any direction.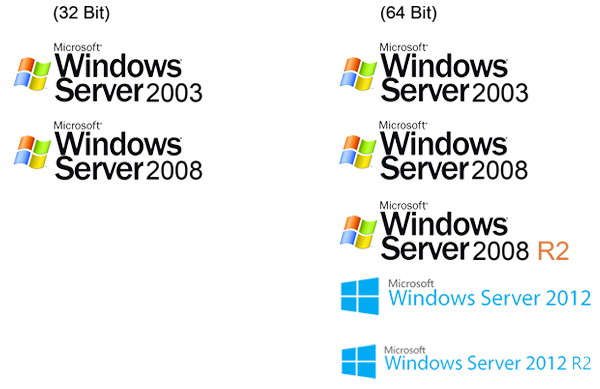 Preparing & processing of a migration
You can get to the Migration window via the print server view in the steadyPRINT Center.
Analyze both print servers for a migration. In case of possible driver conflicts, the analyzed printers are marked with different colours.
Red: No compatible printer driver was found on the target system. You can install the necessary drivers directly via the steadyPRINT Center.
Orange: Different driver versions on source and target system. You decide whether or not to overwrite these drivers.
Decide which x86- and x64-driver from which system will be used for migration.
Establish a remote desktop connection to the source or target system, when required.
Driver administration
During a migration from a 32-bit to a 64-bit System, driver conflicts may occur.
Should there be no compatible driver on the target system, you will be asked to choose an alternative driver in order to successfully complete the process. All drivers that are available on the target system will be displayed.
Should there be different printers with the same driver, steadyPRINT automatically detects this and the selection can be taken over for all relevant cases.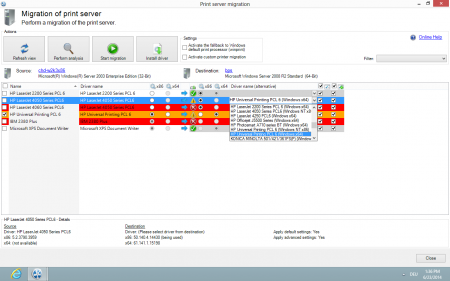 User migration
Migrate all users to the new print server. Through the user migration, any of the users' printer connections will be switched to the new system. During this, all old connections are being deleted and newly created on the target system. For this, all connections have to be inventoried by steadyPRINT at first.