Centralized Management
Simple and clear management for the administrator: All in one management console.

Organization and assignment of printer connections
Organize your printers in a recursive directory structure, so you will always keep the overall view.
Assign your printers based on users, groups, or computers (even thin clients).
steadyPRINT enables the separated assignment of printers for terminal servers and workstations.
Restrict unwanted printer assignments.
Integrate one or more Active Directories and assign printers across different domains.
Newly connected printers are available directly and without any restart (real-time mapping).
Export all printer assignments and information as a CSV-File, if necessary.
You will find search buttons in the steadyPRINT Center. With this, objects can be quickly and effectively selected from your Active Directory Structure and print environment. You can simply search for terms or perform a wildcard-, positive or negative search.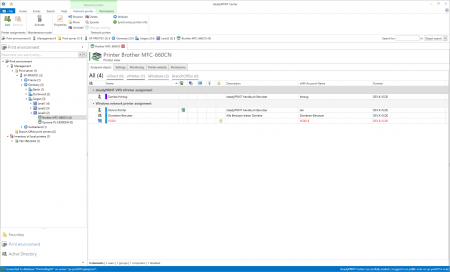 Location-based assignment of printer connections
Define IP address ranges for different departments, locations, etc. An IP-filter can be created on print server, folder, or printer level.
During a change of location, all printer connections and default printers are automatically adapted to each IP-range.
If an employee commutes between different branches, he does not have to worry about whether he has chosen the right printer or if his documents will accidentally be printed at a different branch office.
By defining an IP address range, the selection of available printers is reduced to those which are actually nearby. This makes it possible to quickly find the right printer even in huge printing environments.
Which effect an IP filter has on the work of a user is described closer in the section about the steadyPRINT Agent.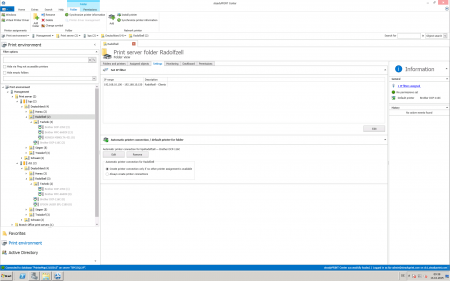 Default Printer: Behaviour & location-based default printers
By creating a priority list, you can define which default printer will be set for a user.
If the default printer shall only be valid for session run-time, the default printer defined by the administrator will be set again after a restart of the steadyPRINT Agent.
Set the default printer on computer, users and groups.
Set any number of default printers in different IP address ranges.
Set any number of default printers in one IP address range. In this case, the user will be prompted for location selection at the login. This setting can be saved, so the selection does not have to be done again and again.
Default printers set by users are saved in steadyPRINT.
Inventory of local printers
Local printers of a user
With steadyPRINT we do not only claim to get an overview over the whole printer infrastructure but also about which printer is available at what time and for which user. But how can this be handled with local printers being linked to computers and not to users, as it is the case with network printer connections?
steadyPRINT analyzes a user's login to a computer with a local printer connection and shows this in the steadyPRINT Center.
How long a user appears in this list can be defined in the settings. As default, the user will be removed from that view after 30 days without a logon to that particular computer. The removal can also be done manually.
With the view filter, you can restrict the view in steadyPRINT Center, so that you might only see physical printers and no PDF Printers.
Management of local printers / local print servers
With steadyPRINT even local printers can be centrally managed.
Import workstations into the steadyPRINT Center and manage local printers. You can install, deinstall or change local printers on workstations. For this, the computer does not even have to be switched on.
If the locally connected printers of a workstation are shared for other users, you can also import a workstation as a local print server with all configuration options of a print server being available.
steadyPRINT enables users and administrators to set local default printers not only on user but also on computer level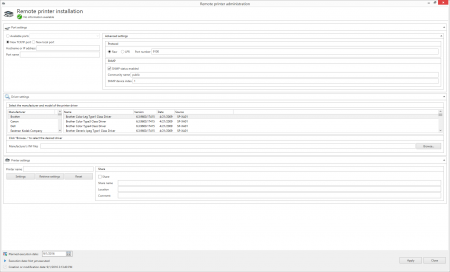 Delegated Administration
steadyPRINT provides a role-based permission system enabling you to grant permissions for settings and objects for different Active Directory Accounts in a fine-granular way.
Create various administrator roles with different permissions, e.g. for different locations.
If an administrator does not have the necessary rights, the appropriate setting options are hidden.
Connect Citrix UPD‐printers via Agent
Citrix offers the possibility and technology to take a client‐printer into the terminal server session without having to install any additional drivers from the manufacturer on the terminal server itself resulting at the same time in a compression of the print data stream.
steadyPRINT is now able to automatically provide the functionality via the Agent. It is no longer necessary to create guidelines or to use Citrix‐own tools.
Select a printer in the published steadyPRINT Agent in the terminal server session.
steadyPRINT notifies the local steadyPRINT Agent on the Client.
A printer connection is created on the Client.
The published steadyPRINT Agent is notified by the Client of the printer connection.
A printer is created on the XenApp Server.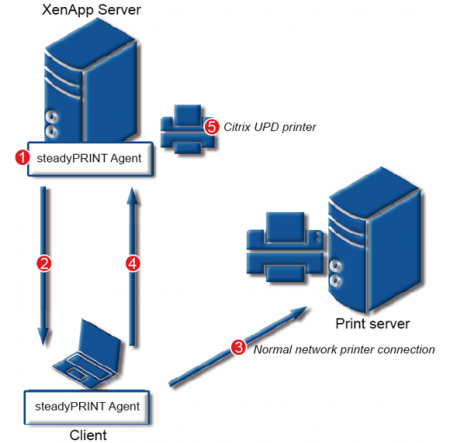 Maintenance mode for printers
Set printers into a maintenance mode in order to perform maintenance tasks at the printer.
The printer assignment will be removed for all users so that no accidental print outs are possible.
Furthermore, a pop-up window informs the users about the maintenance status which is shown in the steadyPRINT Center as well as the steadyPRINT Agent. If the printer is available again, it will  automatically be reconnected to all users who will be notified of the reconnection.
Inventory: Manually added printer connections & computers
Clean up, driver installation
Clean up your printer connections. Just let steadyPRINT delete any unnecessary network printers during the start.
Use the fully automatic installation of printer drivers with administrative privileges on clients as well as on terminal servers. Messages like "do you trust this driver", or "error during installation" are a thing of the past.
Intuitive management of printer connections for users
With the steadyPRINT Agent every user is able to add, remove, and set default printers on his own. Neither a special knowhow nor Windows knowledge is required.
Define several default printers depending on the location. By clicking the button "Change Default Printer", the user is able to select the currently required default printer in case that different default printers are available in the respective IP range (e.g. within one building having several departments). The selection of the location is also available to the user via the context menu of the steadyPRINT toolbar icon.
An integrated quick guide is available to the user at any time.
Agent-Profiles
With the Agent profiles it is possible to define user-, group- and computer-specific settings for the behavior of the steadyPRINT Agent. Initially, there is a "Default" profile providing a basic configuration for the Agent. It is adjustable but cannot be deleted or disabled. To restrict this function for special users, a new safety profile can for instance be defined for a group.
For example, create a profile for certain users who are not allowed to assign new printers to themselves or to set default printers or define that all possible functions should be made available to the management.